Volunteers are at the heart of the Lingen Davies Cancer Fund.  More than a hundred individuals have given their time to help over the course of the last 40 years, whether that's working in the office, supporting events, selling Christmas cards, marshalling car parks, organising coffee mornings, collections or carol concerts.
Without them the charity would not be able to support the thousands of cancer patients who have been through the Cancer Centre, or those who have dealt with our LiveLife Cancer Awareness Service, or other community outreach project funded by Lingen Davies.
Brian Harper is one of the newest volunteers to join the charity; he supports the fundraising team with a variety of administration tasks, as well as happily taking on various other projects as needed. He is no stranger to the medical world as he spent almost 50 years working in and with the Royal Army Medical Corps – rising to the rank of Major. His career took him around the world before he settled in Shropshire in the late 80s.
Brian's story.
"I've led a regimented lifestyle, although not by design. I went to grammar school and decided I wanted to be a steam engine driver. I was literally standing on the footplate when I got called up for my National Service and I had to report to the RAMC.
I started on the footplate on my 16th birthday, it was all I wanted. When I got called up I hoped to be in the Royal Engineers, I didn't know anything about the RAMC. They marched me from one thing to another and I was told to take tests, I passed everything they told me to do, and it was all a good education.
I became an RAMC Clerk and was posted to Malaya where I progressed through the ranks. Steam was being overtaken by Diesel trains and the dream of driving steam engines was fast disappearing anyway, so I decided to stay in the forces. I rose to Sergeant quite quickly and I never looked back.
I was in Malaya for three years and when I came back, I met my wife Christine at a dance in Chepstow – we were married for 58-and-a-half years. Christine was a nurse from Chepstow and we married in 1959, she accompanied me on many tours of duty during my service and we were lucky enough to be blessed with two lovely daughters.
I rose through the ranks to become a Major and I served as a personnel officer, Senior Admin Officer in various military hospitals and units. My many appointments before commissioning included being Chief Clerk of various service hospitals, in field units and headquarters. I had an unusual appointment as a warrant officer to help form the ANZUK military hospital in Changi, Singapore. And following that I was appointed to the post of Superintendent Clerk of the RAMC.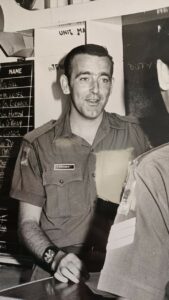 Brian and Christine settled in Shrewsbury in the late 1980s.  He took a staff officer medical post in Shrewsbury Headquarters for 14 years during which time he liaised with staff at Robert Jones Agnes Hunt Hospital in Oswestry. Upon his retirement in 2002 Brian took on a number of voluntary roles with RJAH, the Shrewsbury Flower Show committee, and also tried his hand at golf.
"I was involved with RJAH when they wanted among other things to have a military ward on site. I helped put 1,500 service outpatients through there and got to know people. I spent 47 years with the RAMC and when I retired I wanted to do more with my time to benefit the local area.
I was successfully interviewed by NHS Birmingham to be a non-executive hospital director but turned it down because I was involved with the Arscott Golf Club. I helped create the course with a local farmer and I did the admin, now I have honorary life membership which is rather good. I also did invigilation work at different schools, I really enjoyed that and now know lots of young people in the area from that time."
Sadly Brian lost his wife Christine nearly four years ago; as well as regular visits to her grave in Chepstow he keeps himself busy with choir membership, working for Lingen Davies, his daughters and grandsons, and he is also attempting to write a book about his wife's history.
"I like to keep myself occupied all the time and volunteering is a great way to do that, I like to help as much as I can. I enjoy working with people, one of my many jobs was working with patients to alleviate their financial worries, which went on to help sort out personal problems and assist their treatment.
I really missed social interaction during Lockdown so I joined Facebook and reconnected with lots of my old army colleagues.
It's good to keep busy, I'm pleased I can be out and about in the community again, and I love working with the team at Lingen Davies, I'm really happy and willing to do anything they need.
Volunteering works two ways, it's of benefit to the charity but also of great benefit to the individual."
For more information about volunteering opportunities with Lingen Davies contact the office on 01743 492396.