Antonia thought she had just over-indulged on Christmas treats when she was given a diagnosis of Ovarian Cancer. Less than a month later in January 2020 she was undergoing chemotherapy. Subsequently Antonia has been diagnosed with heart failure, paralysis of the vocal chords, and the Ovarian Cancer has returned. But the 62 year old is keen to do as much as she can to maintain her physical fitness and stay well enough to cope with her treatment regime.
"I had breast cancer ten years ago and after undergoing treatment at the Lingen Davies Cancer Centre I decided I wanted to give something back. I was involved with Macmillan doing various volunteering roles, and I worked with Lingen Davies selling Christmas cards in the Centre in December 2019.
I retired from teaching in August 2019 and had thoughts of travel and widening horizons. In October that year I saw two different GPs about a change in bowel habit. Bowel cancer was ruled out and no further action taken. I now know a change in bowel habit can be a sign of other cancers too.
On Dec 27th I saw my GP with a suspected urine infection and was told to monitor it and return a week later. However, by New Year's Eve my tummy was slightly bloated but I couldn't pass urine. I went to A& E and was processed fairly quickly and then admitted on intravenous antibiotics. Various doctors puzzled over me and on 4th January I happened to say "with my past history…" (Breast Cancer 2012. And so a CA125 blood test was requested and an ultrasound scan.
My abdomen was continuing to swell. Ovarian Cancer was diagnosed on 6th January and I was transferred to the Gynae ward at The Princess Royal Hospital in Telford. On 9th January a biopsy was taken and a drain inserted to drain the accumulating Ascites (fluid in the abdomen). I looked nine months pregnant and was extremely tired all the time. A massive 6.5 litres drained away in less than an hour.  What a relief!! I was able to actually eat something, although I had to lie completely flat, for the first time since being admitted on NYE."
Antonia was discharged on the 10th January, and during her consultation five days later she was told a course of chemotherapy and an operation would be required. Treatment began before the Covid pandemic hit the UK and thankfully it had little impact on her care plan.
"The Gynae Cancer Pathway team were brilliant. They are very supportive and practical. My chemotherapy started on 28th January – an impressive four weeks on from my visit to A&E. Covid hit in March. It didn't interrupt my treatment at all though, I was meant to have three treatments and then an operation, and then three more treatments.  Because of Covid I was given six treatments and then went to Stoke for my operation as it is a specialist centre as the op was complicated. Then I had two more courses of chemotherapy as top-ups in August. This was followed by three weekly infusions of Avastin until April 2021."
By the end of May 2021 Antonia had finished her treatment. A holiday to Cornwall followed during which periods of breathlessness and a panic attack forced her back to A&E. Cancer marker tests revealed an increase in levels during the summer so regular chemotherapy followed, managed alongside tablets for her heart failure, and paralysis of the vocal chords which were effected during the panic attack in holiday.
"I was walking and generally just taking it easy in Cornwall. But I found myself really short of breath so on return to Shrewsbury went back to A&E. A series of tests followed and I was diagnosed with heart failure, a possible side effect of the chemotherapy. My current oncologist has now questioned this connection.  I spent July and August in and out of hospital and ended up in coronary care for four days. I was given drugs for heart failure. The fact that I only have one kidney complicated things as the drugs affect kidney function. It's a careful balancing act.
Cancer is the biggest problem but I need to focus on my heart too."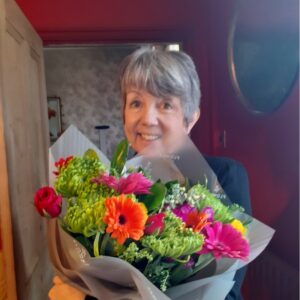 Pilates and volunteering for the National Trust were a part of Antonia's life before ovarian cancer. She appreciates the need to keep moving and the benefits of physical activity, and used yoga and walking to regain fitness, as well as undertaking a Kick Cancer course – specifically designed to help those living with and beyond cancer regain fitness.
"In January last year I decided to get back into yoga. Illness saps all your energy and motivation but I always made a point of getting dressed every day even if my only activity for the day was to move between the bed and the settee. It's important to keep a routine and some attempt at 'normality'.
When my Heart Failure was first diagnosed, I could manage two stairs at a time before resting. Three days after being told I needed more chemotherapy I was prescribed a drug called Entresto. Within a week I could do a whole flight of stairs!
I did yoga on zoom and started walking. I did the Race for Life in September 2020 and I really needed to regain my fitness because I had muscle wastage and weight loss. But all that had to stop because of the heart failure.
I saw a poster for Kick Cancer in the waiting room at the Lingen Davies Centre and thought I would look into it. It's designed to allow people to do things at their own level, you can stand or sit to perform low-level exercises. We do a warm-up where we just move our feet or our arms. You can push yourself as far as you want."
Antonia faces the possibility of more scans, chemotherapy and blood tests and needs to do what she can to stay as fit as possible. While she in no way faults the care given at the Cancer Centre she is eager to highlight the need for guidance to be given to patients about exercise.
"You are given a lot of information about treatment and it is so well-managed and organised for you. It's very much centred around clinical care. Organisations like Lingen Davies and Macmillan are crucial to delivering further support in addition to what the NHS can provide.
The care and treatment given at the Centre is wonderful, everyone has been fantastic, but it's important in staying mentally and physically well enough to undergo cancer treatment."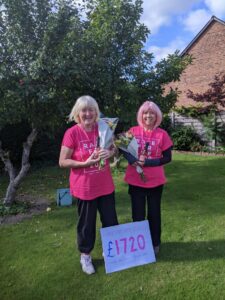 **As well as supporting cancer services delivered at the Royal Shrewsbury Hospital, Lingen Davies Cancer Fund provides funding to additional projects and services that further enhance the patients' experience.
Complementary therapies are delivered on our behalf by Severn Hospice, Shrewsbury Town in the Community runs the Kick Cancer course which can be completed online or in person. Lifestyle Fitness delivers ICan – a programme of therapy designed to provide physical fitness, information about nutrition, fatigue management, and positive mental health. And we are proud partners of the 5K Your Way group – a national movement partnered with ParkRun UK to encourage cancer patients, friends and family to take part in physical activity in a nurturing, friendly and informal way.
For information on any of the above services contact the Lingen Davies fundraising team on 01743 492396.